To be passing out there, where no craft was visible, would be a sailing out of time. To cast our warps, not for escape, but for adventure - into that which all our moorings have kept from us." OFF IN A BOAT by Neil Gunn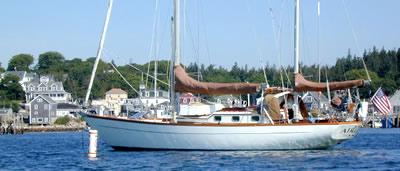 CONSULTING:
Foxfire marine provides a comprehensive range of consulting services.
If you need assistance finding a design, or information about a specific boat, obtaining insurance or registering and/or documenting your boat, arranging for a marine surveyor for a pre-purchase survey, or if you need to find professionals to build or rebuild your boat (naval architects and marine engineers, boatyards and builders, riggers, etc.) please consult me. I can help you find exceptional quality boat building materials (wood), bronze winches and turnbuckles, wooden shell blocks, bronze hardware and fasteners, as well as parts for a JABSCO pump, canvas buckets, unusual tools and equipment. If you are looking for maritime information, old nautical books, or a boat to charter in Patagonia, a real sea going galley stove, kerosene lights, or just about anything else, please ask. Here are some of the types of inquiries that I can help answer: Where to find traditional rigging and riggers as well as materials such as 7 x 7 216 SS rigging wire and solid bronze thimbles, instructors to teach navigation, or how to sail your gaff rigged (or more modern) boat, a boatyard and marina in Scotland catering to wooden boats, suggestions for modern marinas in the Azores, where to find books about sailing across the Pacific in the thirties, a naval architect/marine engineer who can advise on gaff rig, a marine surveyor to fly to Hong Kong, shipwrights in New Zealand or San Diego, delivery crews to sail your boat from Greece to Tahiti, people to take of your boat, and it's brightwork in Bequia, a charter broker who can make all the arrangements for a dream vacation in Maine, or how to find information about who built clipper ships on Cape Cod. I enjoy doing research and love challenges; if I can't help I'll try to recommend other options. Rates are reasonable and projects are completed promptly.
FREE LANCE WRITING:
I have written for numerous publications and helped research articles and books for several authors. I have a home office, a large nautical library and access to additional reference material and resources. I can provide assistance researching a specific topic, or help verify information and sources.
Pamphlets and Brochures: I specialize in writing about traditional chandlery and gear. If you have a product or service that needs a promotional brochure or pamphlet, I can help you with narratives and lay out . One caveat: I will not write about any piece of gear or a service that I wouldn't use personally on my own boat, or at sea.
Websites: Are you putting together a website, ask for assistance with composing a narrative? In addition Heather Goff who put together and manages this website can provide a wide range of computer related assistance. She can be reached at: http://www.goffgrafix.com/